Well gents I know living out of one bag for a year might be an easy task for you, but for my ladies out there who may be a little like me (it's Iris speaking btw), some complications come into play. That's why Harry and I sat down to write this post… packing your entire life into one bag for a year is a pretty difficult concept to grasp and might be overwhelming (it's minimalism at its peak). Although it was easier for him, it was still difficult. So we're here to guide you through how we have packed our entire life into a single bag for the next 8 months.
P.S. we just finished our 8-month trip with this setup and didn't miss a single thing we didn't pack, or run into an issue of needing something we didn't have enough space to bring. It worked out perfectly, but there are a few things we picked up on the way that made a massive difference. We'll cover them below.
How To Choose The Perfect Backpack For One Bag Living
TL;DR Guide To Choosing A Bag
For one-bag living, you want a bag that covers these points:
Carry on size dimensions 50 x 40 x 20 – 40L spaces
Strong, sturdy frame that doesn't misshape when you pack it with clothes, a bag without a good frame may cause problems at check-in
Good back and shoulder support (make sure you buy the correct gendered bag, women's bags sit higher up to support their frame better)
Mesh straps and back support to allow breathability and stop sweating
A hip belt. You'd be surprised how much pressure this takes off your shoulders and distributes weight evenly
Multiple compartments for bottles, laptops, electrics and easy-access items. You'll be on the move a lot traveling and when you're tired having compartments for certain items makes everything so much easier. Trust me! Me and Harry had 4hrs sleep on our way to Thailand and it was so much easier knowing where everything was we could easily find it all when hungry, tired, and annoyed.
A security system to stop pickpockets and thieves
A reputable brand name with a warranty and a great track record of customer support
A bag that fits you well – try it on in-store (this is a must)
Recommended bags for packing your entire life into:
Osprey Farpoint 40L (Men) & Osprey Fairview 40L (Women)
Tortuga Outbreak 35L (popular on Reddit)
Osprey Trek 55L (better suspension system for back, but less likely to get away with as carry-on luggage)
Tortuga Setout
Patagonia Black Out
Carry On or Checked Luggage?
Different airlines vary their prices for check-in luggage which can start from £50 and can be as much as £200 (for 30kg-45kg bags). On top of that, 30-45kg bags are heavy (especially if you're a small lady like me)!
You've really got to think of every situation and where you're going. Are you going to want to be lugging around 30kg+ bags with you in the blazing 30-40 degree heat and high humidity of Asia? Really think about it – the answer is probably no.
To keep traveling costs low, as well as less commotion and comfort with our belongings, we knew that we were going to stick to a carry-on bag.
We'd advise you to do the same because luggage costs can mount up, and if you're doing this on a budget (like us and most people) you're going to be happy with the odd £40-50 saved for cabin bags here and there. You also don't need half the stuff you take on holiday with you, and typically you only end up in a bikini or the same few pairs of swim shorts the entire time.
Airlines generally have the same bag requirements:
50cm x 40cm x 20cm
7kg maximum weight
Small personal bag for personal items
Anything else, they say that they will charge you for.
In practice, you can usually get away with a little more than what they state as long as you're not having them on and taking a 65L – 80L bag and trying to justify it as carry-on luggage.
But to be on the safe side and leave one less worry behind, it's better to just pack within the carry-on requirements.
Don't Get A Cheap Amazon Carry-On Bag
Another point that's important to mention is that, although Amazon bags for £30 might be an attractive buy, if you're going for longer than a month, we'd highly suggest you avoid anything from eBay, Amazon, or AliExpress that's cheap and cheerful.
Yes, you can get one backpack from Amazon for £30 and you're done. But really think about it… that bag will be your home for the foreseeable future. Cheap Amazon products break easily and you'll want something that was built with quality, and you know the seams aren't going to burst if you overpack it. That your backpack is your new home, so be ok with investing a little more.
Go To The Store And Try Before You Buy
Online shopping is great, but you never know if it fits you and then you have to go through the annoying process of sending it back. On top of that, you don't get the expert customer support you do in a shop like Go Outdoors, Millets or another mountaineering brand.
Take some time out, go to a big travel, camping, mountaineering store and try on all the bags. Check the different sizes, ask the customer team for support, and get the help you need before you go. This will give you an idea of how much you can fit in the bags, which is the best for your body type, and help you hone in on the brand you want to get. We went to Go Outdoors to try on our bags before purchasing them from somewhere else.
Go For A Reputable Brand With A Good Return Policy
When choosing a bag make sure you go for a decent brand. North Face is a common one people first think of, but we would actually advise against getting North Face. Although the quality is good, they are extremely expensive, and you could get a much more practical bag for traveling for much less money. The other issue you'll run into is it'll make you stick out and look like you're rich, which could attract unwanted attention. This is the same with Patagonia and other high-class, well-known brands.
A good brand is Osprey as they are fairly unknown and provide excellent quality bags for a reasonable price. Tortuga is another great brand to check out too.
The Bags We Chose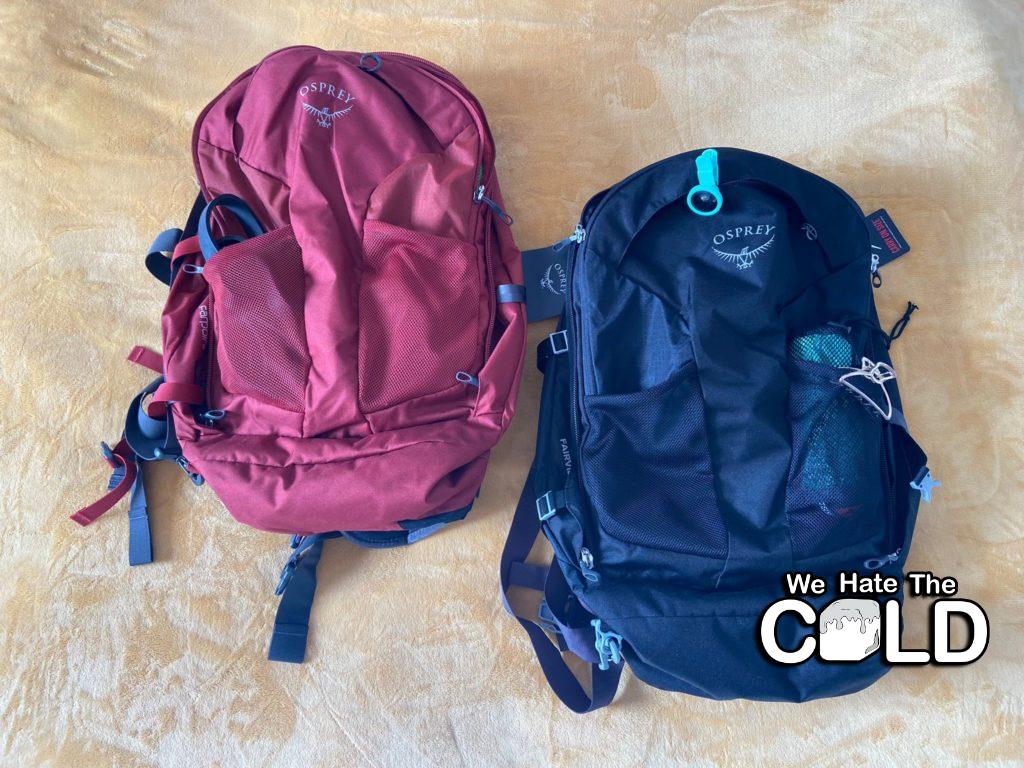 After following the above steps, we both went for the Osprey brand:
Harry got the Osprey Farpoint (Men's backpack, longer back support)
And I (Iris) got the Osprey Farview 40 (Women's backpack, shorter back support)
Both of these packs are 40L and we've since made it on 2 flights successfully with no dramas. One from Heathrow to Riyadh and another from Riyadh to Thailand. The amount you can fit in these bags is crazy, and if I'm honest, I actually packed too much and I'm now wishing that I left some clothes behind, because in this humidity all you want to wear is a dress!
We almost went for a Millets branded bag, which was recommended by one of the employees in Go Outdoors and was much cheaper than the Osprey. However, he said the quality of the straps was the only difference and I didn't want to be having low-quality straps dig my shoulders through our travels!
Turning Max into Minimum
Take what you NEED not what you WANT and buy extras when you're away.
Turning your hectic, full, and "glamorous" life into a minimalist lifestyle is very challenging when we are so wired into worrying about which status we fall into with our materialistic lifestyle, we think we need to deliver to others. We are all guilty of it. And honestly, this was partly my difficulty in what outfits I was going to pack because my brain automatically went "how will the gram (Instagram) look" etc. I mean do we really need more than one pair of jeans, when you know we all have that one favourite pair and wear them until they're destroyed?
If you are going to colder climates you will have to be smarter with your packing. Wear your coat on the plane etc. Take warm, thin materials like thermal clothing that you can layer up and are quick drying.
Materials for cold clothing should be:
Nylon
Merino Wool
Polyester
These dry very quickly and offer a lot of warmth. Merino Wool is the best material, however, it is the most expensive one too. If you're on a budget Nylon and Polyester mixes should be a good pick. This prevents the smell and lack of breathability that Nylon offers. Gym tops, running gear like thermals, long johns, and other types of this clothing will be perfect to layer in colder weather.
Make sure you take waterproof jackets and shoes that are waterproof too – you'd be surprised at how many aren't.
One bag packing list ideas for him and her:
One Bag Packing for Women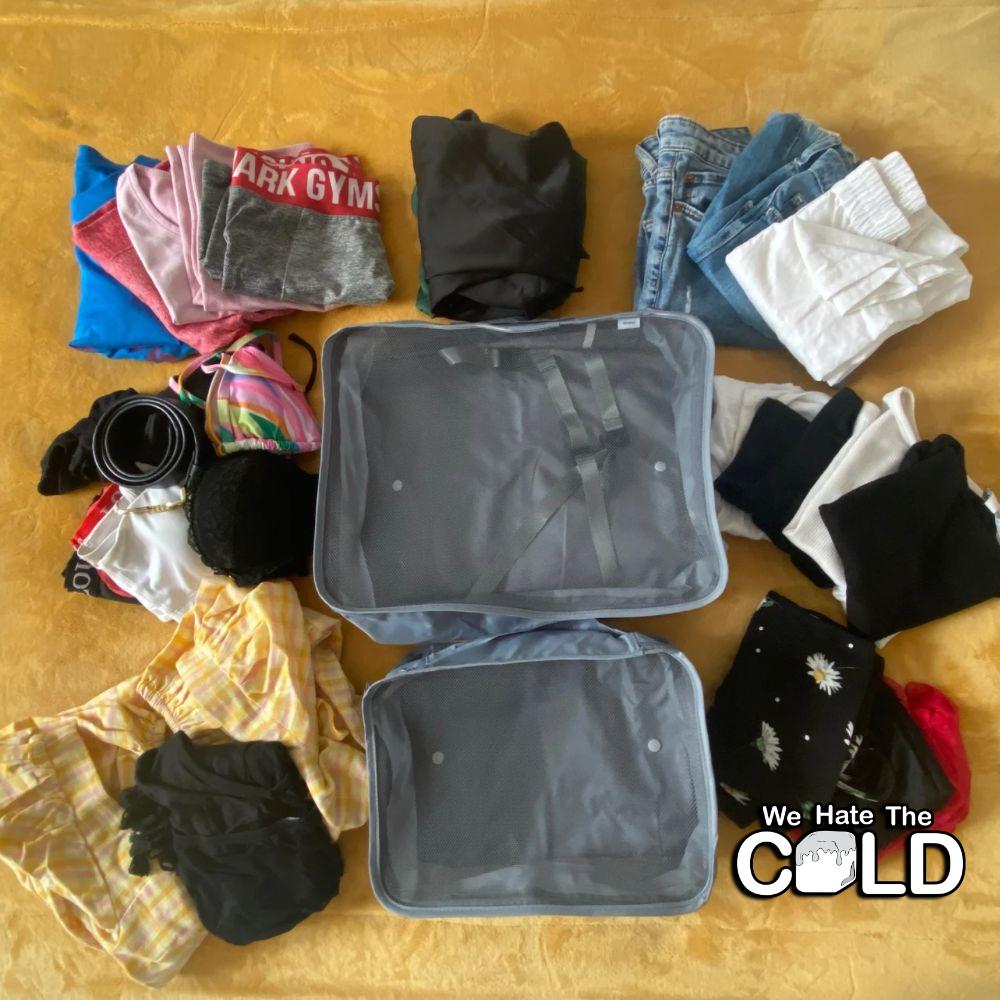 Gym shorts x2 & Gym leggings x1
Dresses x3 (don't need that many)
Jeans x1 & Skirt x1 & Belt x1
Long flow trousers x1 (best trousers for hot weather)
Tops x5 (2 playsuit tops, 2 T-shirts, 1 long sleeve & 1 gym top)
Bikinis x2 & Swimsuit x1 (for pool areas)
Underwear and Socks x8
One Bag Packing for Men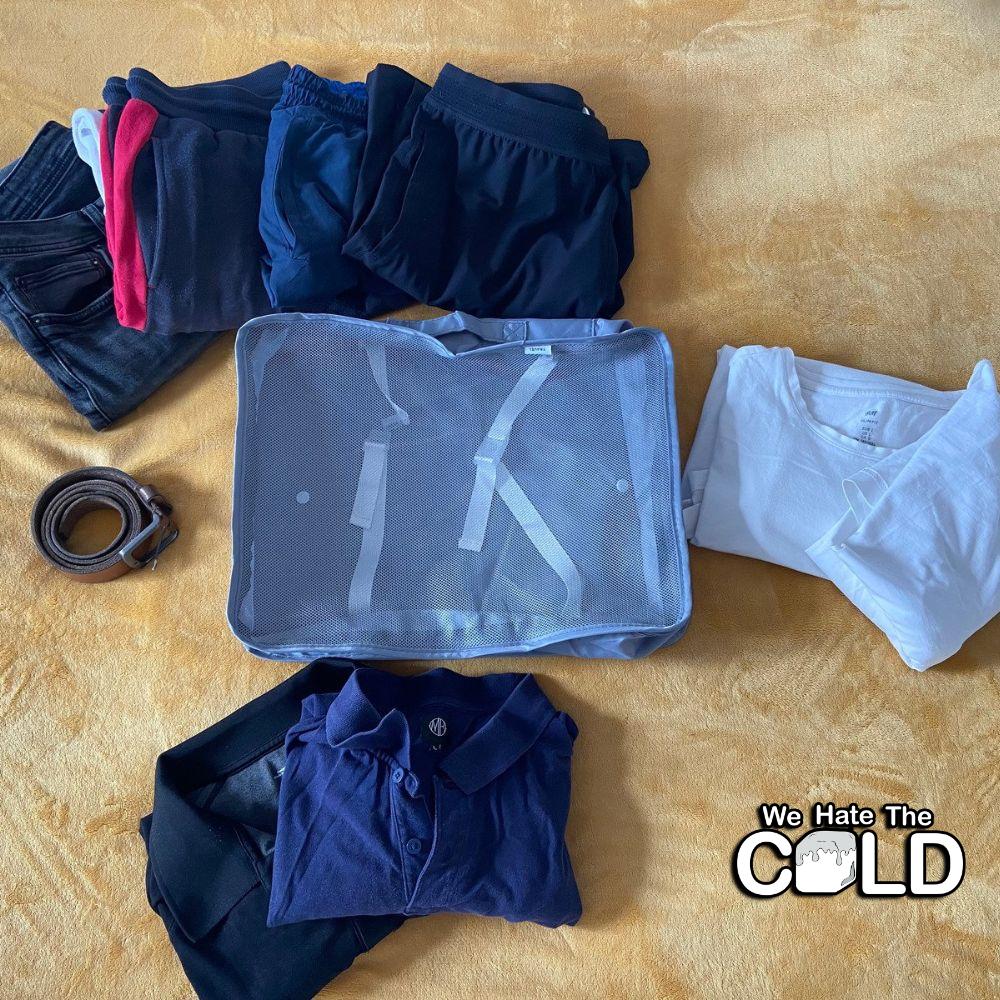 Jeans x1
Joggers x1
Shorts x2 & Swim shorts x1
Tops x5 (2 polos, 2 T-shirt & 1 long sleeve)
Belt x1
Boxer shorts and Socks x8
One Bag for Women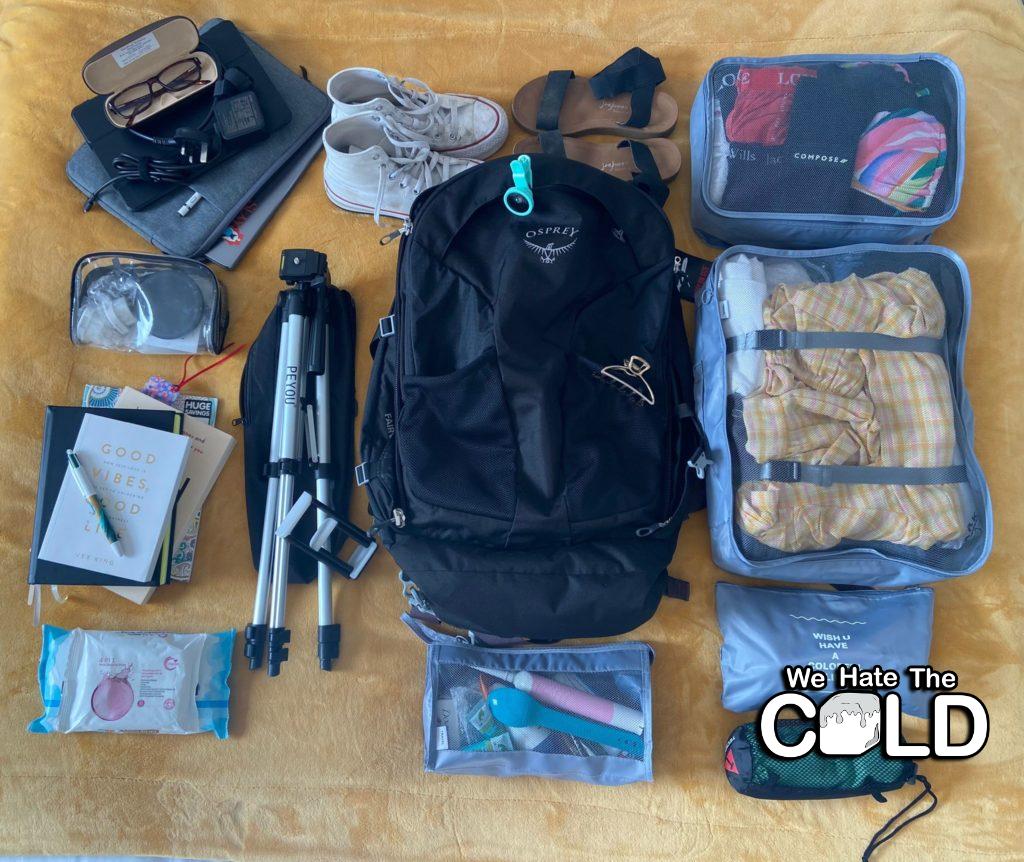 2 clothes cubes (In the end took only the big one with everything)
First Aid Kit (Homemade)
Medium Travel Towel
Beauty Bag & Wipes
Tripod
Few books and pens
Laptop, Ipad, Chargers
Two shoes (Wear trainers on travels)
Electric compartment case
Water bottle (Not displayed)
One Bag for Men
2 clothes cubes
Water bottle
GoPro compartment box
Macbook, Charger & Extended Hard Drive
Few books and pens
Beauty bag
Sliders
Resistance band
Medium Travel Towel
First Aid Kit (too, in his bag, not displayed)
First Aid Kit (Homemade)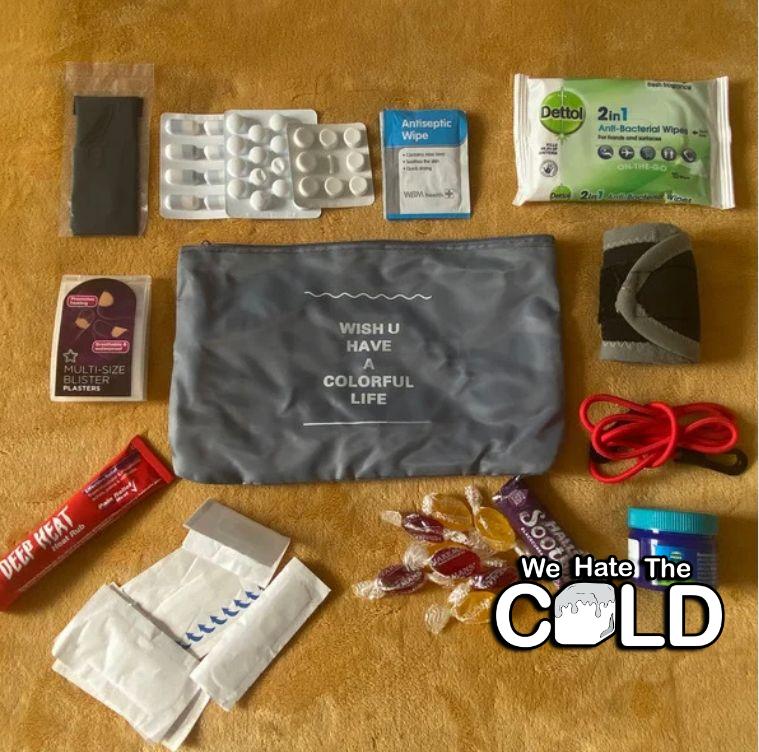 Variety of pills
Gloves
Antiseptic Wipes
Anti Bacterial Wipes
Wrist band
Vaporub
Cough Sweets
Variety plasters & Blister plasters
Deep heat cream
Bungy cord
Beauty Bag & Tolietries (Hers)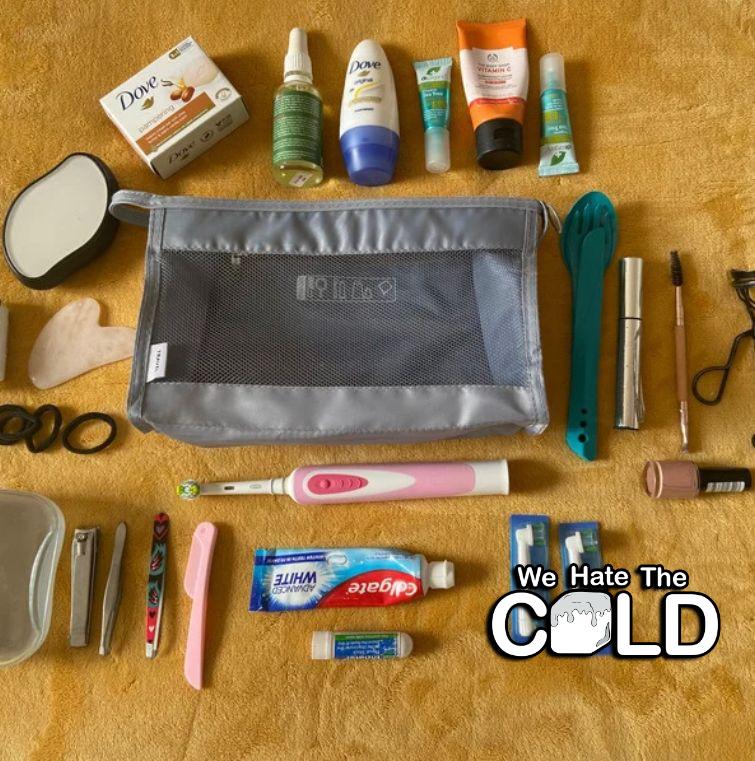 Soap
Deodorant roll on
Skin products
Plastic cutlery
Minimum make-up
Toothbrush and Toothpaste
Inhaler
Tweezers x2
Nail clippers
Headbands
Needle and Thread
Shaver
How To Optimise Space
To optimise space in your bag, you can get packing cubes, compression cubes, or vacuum bags. These are great for creating space and additionally if you're over the weight of an airline requirement you can quickly take out a cube and use it as your personal hand luggage instead. It also helps when it comes to dirty laundry and being able to find things in your bag on the move quickly.
We personally decided to use packing cubes within our backpacks. They keep everything organised, easy to find, and create space for other items.
Later we ditched these packing cubes for vacuum bags that come with a portable hand pump you can use to create the vacuum and reduce the space. We bought these while in Thailand from a site called Lazada (like Amazon) for around £3-5. They come posted with a variety of sizes and are the best size-saving thing we have bought so far.
We would actually recommend that you use vacuum packs instead of compression or packing cubes if you're travelling with one bag, long term. You can fit so much more in your bag. However, one downfall is that it doesn't reduce the weight of your bag, so weigh-ins at airlines can be a bit nerve-racking, although they are rare and in our 8-month trip we did not get asked to weigh our bags once. Additionally, they will crease your clothes loads.
Below are the packing cubes we were using. We dropped a few of the packing cubes, bought some vacuum bags and used them in conjunction with each other. They cost us £18 on Amazon and are good quality, lasting us the whole 8-month trip up until now, still going strong. One thing we would say is, the toothbrush compartment is cool, but we found that, because it doesn't squish down, it takes up unnecessary space in the bag.
Another interesting thing to try to reduce space in your bag but keep your clothes crease-free, is to bundle wrap them. This is a specific way you wrap your clothes that optimises space and prevents them from creasing. Below is a great video from NBC News that demonstrates this process.
Things to think about when optimising bag space:
Compression packs
Packing cubes
Rolling clothes together
Packing compressible things – anything you can squeeze and make a small pack instead of hard items
Remove all boxes, cases, and other space hoggers where possible
Take a multi-cube power pack instead of multiple travel adapters
Pack The Most Important Stuff Near The Top
When traveling you want to make sure your medical items, identity documents, food, and water are all in accessible places that don't take a long time to reach while on the move. Moving through security and place to place you'll get annoyed and flustered having to keep taking your bag off to find the same stuff.
I mean you won't want to arrive at the airport; to check in and your passport, tickets are at the bottom of your luggage, and next thing you know you've created a queue behind you. So keep your hands free and your important stuff in easy-to-reach places.
Water bottles
We kept our bottles on hand at all times, but this was a bit inconvenient, so I would advise to buy a bottle that comes with a hook or DIY it so you can attach it to your bag somehow. If you have zip ties you can easily create a little DIY hanging mechanism that you'd be able to quickly access your water.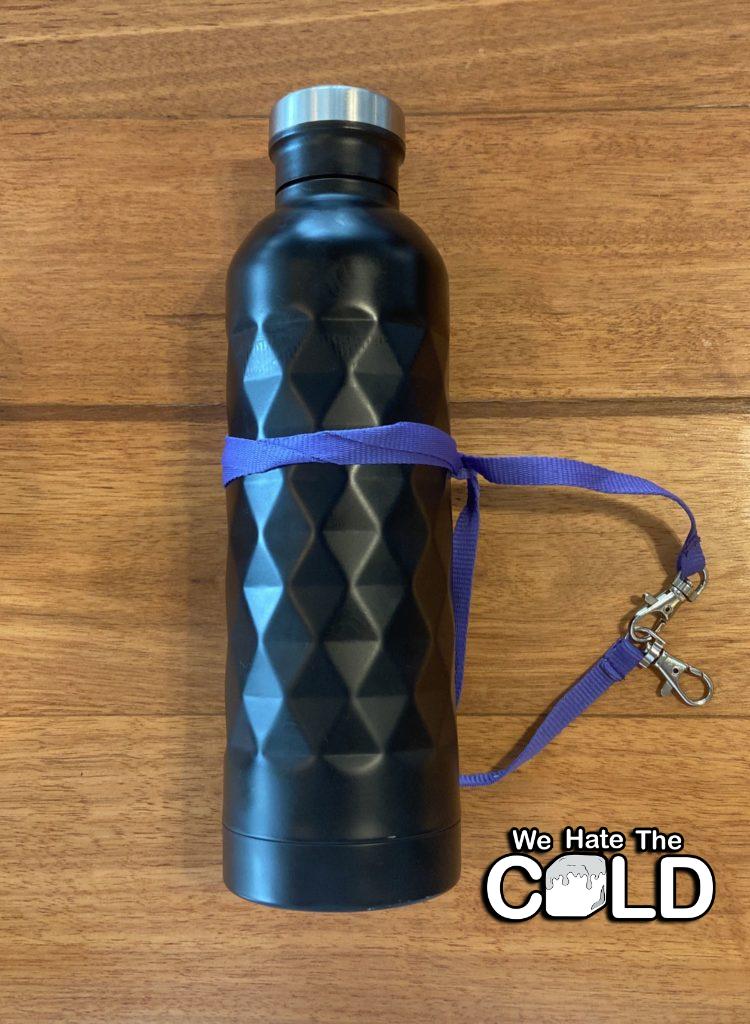 A little side note on water bottles: we'd recommend getting a proper water bottle that's double walled so you can keep your liquids cool all day and not have to rely on finding markets with bottled water. Additionally, many of the market water bottles aren't very cold and are usually lukewarm.
Also you've got to think about money adding up. Water is cheap for a bottle, but over time if you're drinking 2L/day (more if it's a hot place), this is going to mount up to be a big expense. Getting a big water bottle you can refill at drinking stations is much cheaper.
For instance, in Thailand, you can fill up your bottle at stations that are located all around. 6L costs 6 baht vs a 500ml bottle costing 25 baht.
Liquids
Another useful thing is to keep your liquids outside your bag for security runs at airports. I kept my 100ml bottles outside, strapped to the bag using the front straps. This meant I didn't have to unzip my bag every time we had to go through a check and it was right there when I needed it. This was successful until I started putting extra items and made the small bag heavy. Definitely need to work on my DIY packing, lol. Nevertheless, it made it super easy to access the liquids bag for easy security in and out progress.
Medical Bag
Keep your medical bag in one of the front small pouches of your bag so you know you can get to it easily. This way you can get paracetamol, throat sweets or any other medical items quickly. If you have to wear masks on the plane, you'll want throat sweets. Flying somewhere where the air quality is entirely different in a low ventilation aircraft and a mask can give you a nasty sore throat sometimes.
Laptop, Chargers, Electronics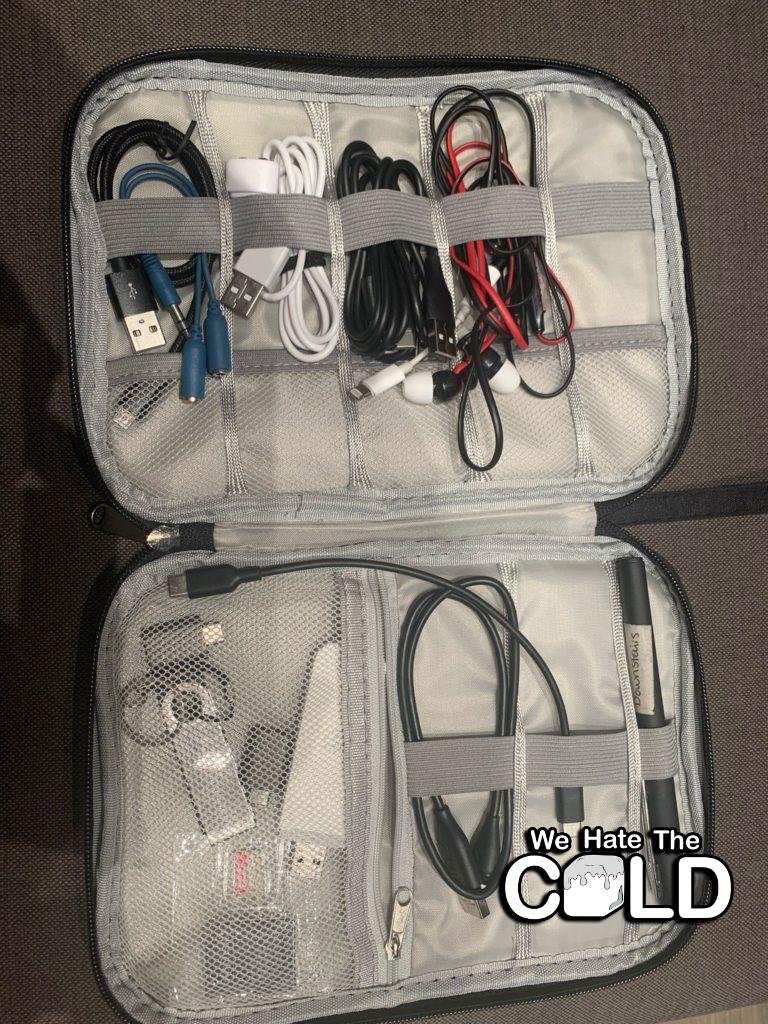 If you're flying long-haul you'll need to access your electronic devices like your phone and your Laptop. Put them all in one compartment near the top so you can get everything easily. It's a good idea to take an electronics case where you keep all your wires. Me and Harry have a zipped-up pack that has multiple sets of headphones, wires, USBs, and other miscellaneous electronic items.
This has by far been one of the most useful things we bought and it was £5.
Phone and Documents
Who's in charge of the tickets and documents? Make sure to put them in a separate plastic wallet that you keep on you in a small bag or bum bag. Walking around with a huge bag and trying to fumble in your pockets to find your tickets or passport is not ideal, so just pre-plan and save yourself the hassle and stress.
Now if you're traveling solo, carry a small bum bag and keep your documents in there. We'd also suggest keeping your phone in there most of the time so it's easy to access and hard to reach from potential thieves.
Practicality is your new friend
Why the hell would you live out of one bag? Well take a moment, look around your bedroom and now think about traveling with it all for a year, do you think that's doable?
As mentioned before, bags can cost from $25 and can be as much as $200. Now this may be okay for your budget but for those who are in a similar position as us, long trip hopping from place to place and not staying in one place for a long time, one 40-litre bag and a small handbag will do you fine.
The other factor is moving around with lots of bags is a lot of effort and tiring with all the travelling. Having one bag reduces this problem completely. And you really need a lot less to live happily than you think you need.
Important note for the ladies from Iris: "I am already regretting bringing some items, so I am warning you here – you don't need an extra pair of shoes, or your favourite dress. I think I did a pretty good job for "lightweight" packing and although this is my first time too, I could have done better. Think about what you wear when you go on holiday… you never wear the entire case. Additionally, other countries will have the right clothing for their climate, so if you really need to get some more, treat yourself and go shopping through the local markets and shopping centers rather than bringing your entire collection only to realize you'd rather be wearing something lighter because of the heat or something warmer because of the cold."
You don't need a lot… really!
And, it's so rewarding when you see what you will be happy with just one bag living.
Things I wish I knew before I went, so here are some extra tips:
Things I wish I knew before I went, so here are some extra tips
Try wearing a bag fully packed before taking it for real. Like I said I could have done a better job. So whether that's going to the shop or walking around the block, you may look silly, but do it. I really wish I did because I'm going to have to drop some things on the way.
My bag was extremely heavy and became more of a hassle than it needed to be. Harry's bag was perfect for him, so ladies unpack the clothes you think you "really need" (I got rid of them in the end, you can have fewer clothes and still look good)
Airplane compartment. Consider getting a little compartment like a pencil case and putting items you could need on the airplane journey. Examples: cough sweets, a book, earplugs, munches, eye mask etc. Remember to pack this on top of your bag, so it's easy to get before sitting down.
Foldable backpack or bag. Consider bringing a foldable backpack or bag that you can then use day to day when you arrive at your destination. This is not major you can buy one once there but a thought, as they're hard to find.
We're Harry & Iris – and we were tired of the same old "10 best places I've never been but I'm writing about for some reason" blog posts. So… we're two young travelers on a mission to travel the world and share our true, unfiltered experience, including all the gristly details. From packing our life into one bag for a year to traveling Vietnam by motorbike, to sorting out Visas for specific countries – we've done it all, are doing it all and only give our advice on things we have done – not regurgitated cr*p from another source *cough* most publications *cough*. So bear with us! This project will take some time to grow, and will take a fair bit of money. But we're determined to make it the single best source of information about traveling on the internet.